WINNER: US NATIONAL BEST BOOK AWARDS & INTERNATIONAL BOOK AWARDS EASTERN RELIGION. FINALIST: US INDIE EXCELLENCE AWARDS INTERIOR DESIGN AND LAYOUT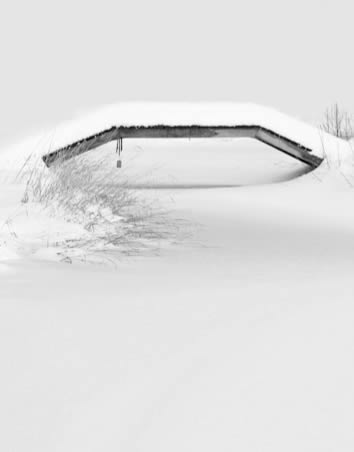 Perfect yet mysteriously formed

It existed before time ever was

It is the silent void

Eternally present

Solitary and unchanging

It is the Great Mother of the universe And, for want of a better word

We call it the Tao

Lao Tzu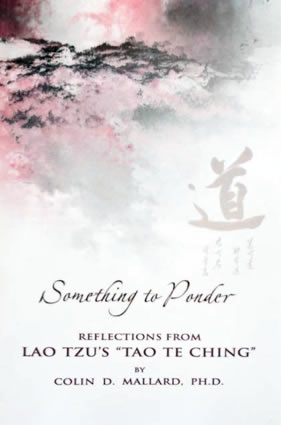 Something to Ponder, reflections from Lao Tzu's Tao Te Ching, brings to people of today the timeless wisdom of the ancient Chinese sage.
The elegant language is simple, at times sparse and is meant to be read aloud. It provides a perfect vehicle for Lao Tzu's profound wisdom.
Spacious layout, use of the author's photographs and overall design set "Something To Ponder," apart. The wisdom of Lao Tzu emerges as beautiful contemporary poetry.
Truth is something we recognize despite our beliefs and reading Lao Tzu it is easy to find oneself saying quietly, "Of course, I knew this all along!" Elegant, beautiful, profound!
PUBLISHED BY: PROMONTORY PRESS, VICTORIA, BC, CANADA WWW.PROMONTORYPRESS.COM
E books available from:
Paper books available from:
Reviews
Like the happy, peaceful murmur of a stream, the wisdom and truth found in the verses of Colin Mallard's "Something To Ponder," cascade effortlessly and ever so gently into our hearts, there to remain in the silence of direct understanding. Articulating the way with ease, poise, serenity and complete assurance, Colin's own profound understanding and creative quietism shine forth on every page. If you yearn for peace, this is the book to read, perhaps just a page at a time, so as to savor the blessings served verse after verse.
Madhukar B. Thompson,
Author of the "The Odyssey of Enlightenment, rare interviews with enlightened masters." Maui, Hawaii. USA
---
For me the most insightful suggestions for living have come from "The Way of Life," by Lao Tzu. This new volume, based on the passages of the original book, and written by Dr. Mallard is a gem. Dr. Mallard has the essence of it. He has gone beyond the literal and given access to what is useful. These thoughts from a Chinese thinker 2500 years ago are as valid as they have ever been and now readily accessible in this new book.
Lawrie Milne,
Tai Chi Instructor. Deep Bay, British Columbia, Canada.
---
As you read  "Something To Ponder," by Colin Mallard be prepared to take a journey—a journey that will lead you to new paths of understanding, and unearth the Pearl of Great Price hidden within.
Christine Welch,
Courtenay, British Columbia, Canada.
---
At a time when my life was very hectic I received a copy of "Something to Ponder."  It brought me feelings of peace and calmness and enabled me to face new challenges on my journey through life. One of my favorite passages is, "used but never emptied." I believe that the "well of infinite possibilities" can see us through any situation. This is a book to be kept close at hand and read over and over again.
Roberta Nelson
Black Creek, British Columbia, Canada
---
"Something To Ponder," flows through the mind like water, immersing one in the ocean of the Tao. Unlike many translations of Lao Tzu's "Tao Te Ching" this modern perspective removes many of the awkward barriers to it, thereby allowing the poetic concepts to, "explain the unexplainable."    Then, one is able to "grasp that which cannot be grasped."
AVANH
– artist, Comox Valley, British Columbia, Canada.
---
Have we lost our senses? I watched a mother accept the flag of her country in exchange for the death of her son killed by a suicide bomber in Iraq. She said, "I'm proud, my son died a hero." As a veteran of the Second World War I could only shake my head at the insanity of it and wonder how it had come to this. I was reminded of Lao Tzu's statement, "After the slaughter of men, how can anyone rejoice?" In this little book, "Something To Ponder," Lao Tzu's pearls of wisdom provide both peace and outrage. Peace that comes with the dawn of understanding and outrage that we consider the death of young soldiers and suicide bombers as being somehow normal, something to be proud of.
Owen Philip Humphreys
Medicine Hat, Alberta, Canada.
---
Prior to major surgery I became very anxious, nervous and sometimes quite agitated. Nothing seemed to ease my state of mind. On one of those nights I picked up, "Something To Ponder". Within a few minutes of reading I could feel a deep peacefulness flowing through me from my head to my toes. My body became perfectly calm. As I read on the peacefulness seemed to envelope me. After surgery whenever I read I felt as if a healing energy had touched me. Whenever I read this book it is not like reading it, it is as if it is talking to me. It talks as if I am the only one it cares about. Its words flow with warmth, and comfort me. And this happens even though I don't yet understand a lot of what is being said. If you are ever a guest in my home you may read it to your heart's content but it doesn't leave with you. One never knows when it may be time to listen to a friend talk again. This is a book that even after reading, you will never be finished with.
Shirley Sanvido
Courtenay, BC. Canada
---
Colin Mallard writes: "True words are not necessarily eloquent, eloquent words are not necessarily true."    My words may not be eloquent, but they are my truth concerning "Something To Ponder." Colin has recreated Lao Tzu's Tao Te Ching in such a clear and gentle way. His words settle one into a quiet, simple and peaceful place. Reading from this book is a wonderful way to begin my daily devotions. Thank you Colin, for your inspiration.
Beverley Worbets
RN, BA, CHTP/I Courtenay, BC. Canada
---
Intrinsic to resolving conflict within, thus promoting peace without. The understanding present from "Something To Ponder," is "to realize the utter simplicity of life."
Dave Dalton
Courtenay, BC. Canada
---

Share with your friends: